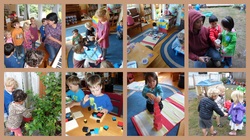 Magnolia Montessori School - located in the Magnolia neighborhood of Seattle - is dedicated to providing a Montessori philosophy, curriculum, and method of education that nurtures each child's individual development to their fullest.
To this end, we strive to prepare the children not only for their next educational journey but also to be a productive citizen of the global world.
As a licensed childcare provider, we are committed to providing high quality childcare to ensure healthy physical, emotional, social and intellectual development.
In Our School, children are challenged and have the opportunity to learn at their own pace. As a community of learners, children are not always working individually but also working together with others to build their school community.
Why choose us?
We are a licensed home-based Montessori school that serves children ages 2 1/2 to 6 years old in a mix-aged classroom. (Your child need to be potty trained)
Providing full time schedule ( Monday to Friday, 7:30 a.m. to 5.30 p.m. )
Experienced and passionate teachers
Excellent music program (Piano introduction with " My First Piano Adventure " by Nancy and Randall Faber, Field trips to Soundbridge, Performances in the winter and spring, etc. )
Small ratio: we commit to only accepting a maximum of 12 children at our school. This small group of children is then served fully by one teacher and one assistant.
Occasional field trips ( Hiking at Discovery Park, Bayview Playground, Tiny Tots Concerts at Benaroya Hall, Seattle Children's Theater, etc )
Family fun school events
Our daily schedule and school events reflect our commitment to create a community of learners
For more information, call us at ( 206 ) 778-9809 or e-mail us at ayfen@magnoliamontessorischool.org
---